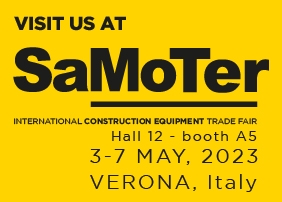 The exhibition centre in Verona, will host the 31st edition of the international construction equipment trade fair.
The Samoter 2023 will focus on the earthmoving industry point of view and commitment about sustainability and the environmental impact reduction through lower emissions and the demolition material recycling.
The show will concentrate its attention on innovation and continuous improvements of machines and attachments as far as performance is concerned.
We will be in hall 12, booth A5.
Visitors at Idromeccanica Ramtec's booth will be able to materially see some of our hydraulic attachments and some of our non-original spare parts for other brands of hydraulic breakers, such as Atlas Copco, Epiroc, Montabert, NPK and Rammer.
The CR 20 hydraulic compactor and post driver, weighing 170 kg, will be displayed as a post-driver and it's perfect to drive posts of different materials, shapes and dimensions, matching carriers from 1 to 2,5 tons.
The CR 45 hydraulic compactor and post driver, weighing 430 kg, will be displayed as a vibratory plate compactor and it's ideal to compact different types of ground, small and big channeling, trenches and banks, suiting machines from 5 to 9 tons.
Idromeccanica Ramtec hydraulic compactors are extremely versatile thanks to the possibility to carry out different jobs, replacing the bolted compacting and pile driving lower plate, also applying extensions for deeper channels.
The hydraulic demolition breakers that will be exhibited in our booth are the RT 150, weighing 2400 kg, ideal for excavators from 27 to 35 tons, the RT 118, weighing 1200 kg, ideal for excavators from 14 to 24 tons and two new entries.
At Samoter 2023 we will introduce our new RT 42 and RT 42C.
The first one is supplied with an open casing, with two side plates and weighs 80 kg; the second one has got a closed casing, weighing 100 kg and is perfect in urban areas.
They are two small and light hydraulic hammers, fitting mini-loaders and mini excavators from 0,7 to 3 tons.
These two models don't have side bolts and high-pressure accumulator with diaphragm. They are simple to use and less expensive in maintenance.
The RT 42 and RT 42C hydraulic breakers are made for road works, urban demolitions, building renovations, concrete and masonry structure demolitions and works in narrow spaces.
We will be glad to welcome anyone interested in our solutions for construction, demolition, handling and demolition material recycling in hall 12, booth A5.